Take Your Music to a Higher Level!
Welcome to Jack's Press and the home of Jazz Harmony Express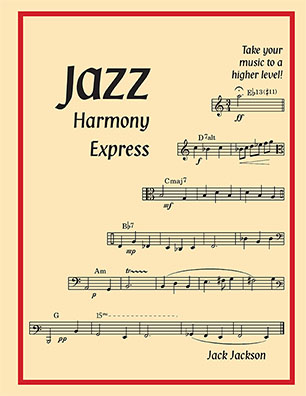 This comprehensive 196 page spiral bound book will take you from intervals and basic chord structure through advanced jazz chords in a way that will help you learn on a deep level, not just superficially. The first 2/3rds of the book present the harmony and theory with explanations, examples, and workbook fill-in opportunities. The last 1/3 of the book contains 26 training exercises that give you an opportunity to play your new knowledge into action. They introduce you to a vocabulary of interesting melodic motifs combined with cool jazz chord voicings. They sound great and are fun to play!
    What are the benefits of training from this book?   You will…
Dramatically improve your ability to play and write music in a short time!
Analyze almost any tune, in any style of music.
Understand the hidden information behind chord symbols to tell what chord voicings are available and what the appropriate scale for each chord is.
Learn what chord substitutions are possible to add variety and depth to your compositions and arrangements.
Click on the Menu page links to see the Table of Contents and sample excerpts from various parts of the book.
I've included a generous number of page excerpts in this web site, but it's still a small fraction of the total contents. If you buy the whole book and work your way through it you will be amazed at how much your understanding of harmony will improve, and hopefully, your skill to play and write jazz too.
Use the Buy button above (U.S. customers only) to purchase a book or books through the secure channel of PayPal.  We do not collect any user information on this web site. Our $35 price includes shipping and taxes to anywhere in the United States. Allow at least 10 days for delivery although you will likely receive it sooner. If you teach students or would like to become a distributor of Jazz Harmony Express, use the Contact link to communicate with us about the possibility of buying a box of books at a wholesale rate. International customers go to Amazon to order their print-on-demand version of the book with a glue back type binding.
Anchorage area residents… Jazz Harmony Express is available at all three locally owned music stores in Anchorage, Alaska – Mammoth Music, the Music Man, and the Horn Doctor.